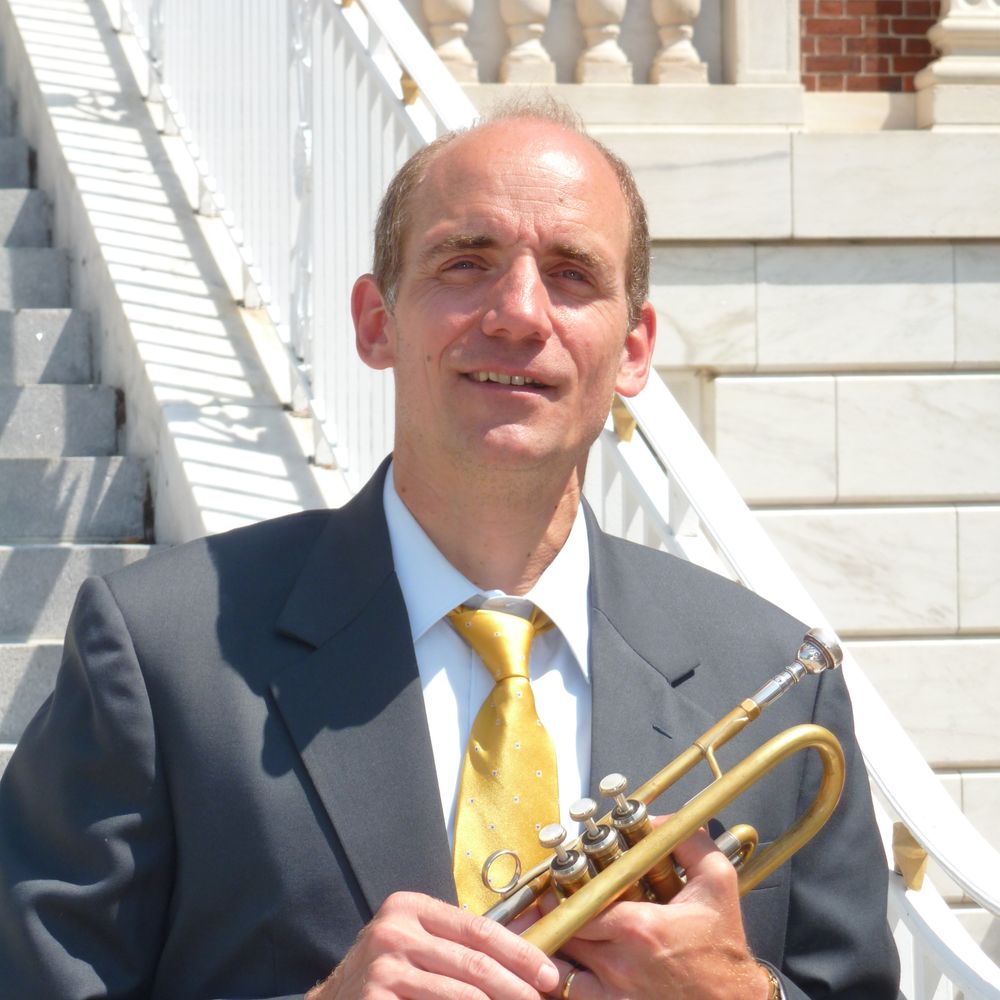 Dr. Peter Bellino, D.M.A.
Bach Performing Artist
Hailing from Buffalo, NY, trumpeter Dr. Peter Bellino holds degrees from such prestigious schools as University of Miami, University of Kentucky, Eastman School of Music and Stony Brook University. Bellino joined Union College as Adjunct Instructor of Trumpet in 2011 and is also the Regional Manager/Music Director for the Paul Effman Music Service since 2000. He has served as faculty at Schenectady County Community College (SCCC), College of St. Rose, Empire State Youth Orchestra, Dutchess Community College, Stony Brook University, SUNY @ Geneseo, University of Illinois and the American Festival for the Arts.
An in demand and dynamic performer, Bellino has performed throughout much of the United States, Canada, Japan and India. His orchestral engagements have been with Grammy award winning Albany Symphony, Glens Falls Symphony, Schenectady Symphony, New York Repertory Orchestra, Penfield Symphony, Greece Symphony Orchestra, Genesee Symphony Orchestra, Champaign-Urbana Symphony, Danville Symphony and the Buffalo Philharmonic. His chamber ensemble performances include appearances with the SCCC Concert Brass Quintet, Albany Symphony Brass Quintet, Battenkill Chorale, Albany Pro Musica, Maverick Concerts, Tri-City Brass, Octavo Singers, Mohawk Valley Chorus, Berkshire Brass Quintet, Saratoga Choral Festival, Binnekill Chamber Orchestra, Cathedral of Men and Boys (Albany), Capital Region Wind Ensemble and the Lincolnland Brass Quintet.
Being musically versatile has always been an important asset to Bellino. In addition to his classical/orchestral expertise, his jazz and commercial performances include numerous appearances with Lincoln Center and Broadway productions, the Empire Jazz Orchestra, New York Players Organization, Gap Mangione Big Band, Jeff Tyzik Big Band, Pacesetters Jazz Ensemble and Walt Disney World Entertainment. He has also performed with the Latin bands of Orquesta Inmensidad and Alex Leon y Los Leones de la Salsa. Marquee artists Bellino has performed with include Aretha Franklin, 'Doc' Severinsen, Claudio Roditi, Curtis Fuller, Lew Soloff, Oliver Lake, James Williams, Jamey Aebersold, Lee Konitz, Nelson Riddle Orchestra, David 'Fat Head' Newman, Keith Brion, Dave Holland, Ray Vega and Ronan Tynan.
As a soloist, Bellino has been featured on numerous recordings with the Empire Jazz Orchestra, Randy Simon Jazz Project, Office Two-One Inc., Airforce Band of the Midwest and the University of Kentucky Jazz Ensemble.
His compositional and arranging projects include arrangements for jazz trio to octet, big band and orchestral works. One of his major compositions includes the five-part big band suite titled, Autumn Rhapsody – Suite for Jazz Ensemble which he arranged, directed, recorded and performed. Additionally, he has composed and arranged for a wide variety of ensembles such as saxophone quartet, string orchestra, studio orchestra and jazz quintet-septet.
Bellino feels tremendously fortunate and is grateful to have studied with some of the finest teachers such as trumpeters Gilbert Johnson, Vince DiMartino, Barbara Butler and Chris Gekker and jazz studies with Fred Sturm, Bill Dobbins, Morgan Powell, Ronnie Miller and Gary Lindsay. He eagerly shares this knowledge with his students, many of whom have competed in and won competitions at the National Trumpet Competition, International Trumpet Guild as well as concerto competitions at their respective schools and colleges. His students have gone on to study at such schools as Northwestern University, Oberlin, Interlochen Arts Academy, Williams College, Rice University, University of Delaware, SUNY Purchase, Indiana University, Princeton, University of Massachusetts-Amherst and RPI and he takes great pride and joy in their success.
In addition to maintaining an active career as a performer, educator and composer his interests also include ultra-running, international cuisine and travel, reading, home remodeling, landscaping and gardening. If you can't find him in a practice room or concert stage, you just might catch a glimpse of him running up a mountain trail. Bellino is a proud member of the Conn-Selmer family as a Bach Performing Artist.